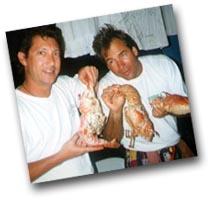 Food is always an important part of any vacation. Most of the locations we will visit have grocery stores or open meat and vegetable markets. It usually takes a full day to shop for everything we need, that is why I will go a day earlier than the guests to provision the boat and store the goods. This is a difficult task in that I cannot store the food on the boat until our charter begins, so I have to find alternative locations. If you were to provision the boat yourselves, you would lose a day of your vacation.

Refrigeration is not perfect on a boat like in your kitchen at home. Therefore, certain protocol must be explained and followed, like stacking the ice box in reverse order of use, not going into icebox without asking others if they need anything as well, etc. Meanwhile, fruit ripens very fast in the tropics presenting another usage situation. Luckily, we are used to taking care of these issues and will guide you through the galley.

Restaurants wherever we go will either be basic local fare to get the feel of the island, or more upscale resort type places. Each trip will have it's own variety. Dining out is an important part of this sailing experience.

All meals on board will be prepared and cleaned up by all on board, with Captain Mark helping as much as possible. All meals on board will include the captain and crew, all meals ashore will only include the crew if the guests choose to invite and pay for them, it is not obligatory nor is it expected. Everyone is responsible for their own cabin and the general cleanliness of the yacht

.



You may choose to hire a full time Cook, usually at $135 per day. The cook will help provision for meals, develop a menu, keep the boat ship shape, prepare the meals, clean up afterwards, and make your bed (but no laundry!).


Sample Menu
---
Breakfast:
Cinnamon French toast with real maple syrup
Banana and mango salad
Orange or guava juice
Fresh cranberry muffins
Eggs over easy on English muffins with cheese
Fruit garnish
Lunch:
Sauteed local fish over bed of greens
Local bread
Apples and honey
Pate, Brie, and fruit
Vegetable salad with artichokes, tomatoes, mandarin orange
Dinner:
Barbecue steak
Green beans almondine
Sweet potato
Dinner salad
Key lime pie
Recipes
---
Some recipes we are often asked for:

Guacamole:
Two soft ripe avocados
Juice from one lime
1/2 cup chunky tomato salsa, medium
Four shakes of salt
Three shakes of cumin
Two shakes onion powder
Hot sauce to taste

Squish avocados with fork, add the rest, and dip with tortilla chips

Barbecue Marinade:
Three parts Catalina Island salad dressing
One part Worcestershire sauce
Three shakes onion powder
Three shakes garlic salt
Cracked black pepper to taste

Mix all of this in a large Ziploc bag, put meat inside and mix around. Let sit at least 1/2 hour.

Dick in the Dirt Rum Punch
Equal parts: Myers dark rum, Mount Gay rum, Bacardi (or any other) Light rum.
Equal parts: Orange, Mango, Guava, and Pineapple juice. Add Coconut milk if desired.
Cut up fruit: banana, oranges, grapes, whatever ya got!

Put all into a one-gallon water jug, three parts juice, one part rum mix. Pour over ice in large plastic cups.

Be careful, if you drink more than two of these, you might fall down and get your Dick in the Dirt!! (or if you will, your Tits in the Turf!)

---
HOME | Intro | Destinations | Yachts | Packages | Photos | Food | Details | Books | Contact Mark | Links | Captain's Blog | Site Map